BDI – Keeping their cool for 60 Years!
June 30, 2017
On May 1st in 1957, the Bridge Drive-In slid open their serving windows for the first time and created a FROZEN FRENZY in Winnipeg's Elm Park neighbourhood. In 1974, its namesake bridge (already a community landmark itself for over 60 years at that point) was closed to vehicular traffic, solidifying BDI as a scenic destination of choice for Winnipeggers to enjoy their favourite frozen treats for decades to come.
As you may already know, BDI's signature treat is the famous Goog, which is spun upside down before handing it off. This time-honoured test proves the Goog's delicious thickness, keeping the spoon straight and the taste buds thankful. And the quality doesn't stop there! Justin and Jessica Jacob both continue to keep classic treat-making traditions alive and well throughout the menu, boasting more signature sundaes, the Creamiest Shake in Winnipeg, and 11 soft serve flavours of ice cream. But even though classic treats never go out of style, this family-owned business is always looking forward. They pulled out all the stops when they unveiled the GOOG TO GO truck in 2016, which gets around town in delicious style.
With their 60th Anniversary happening in the summer of 2017, Electra Sign was asked to update their original signage while blending some new creations in at the same time, including a custom-sculpted LED ice cream cone, and a red light strip pinpointing where to line up for a taste of tradition. Along with a refresh on the street sign, menu boards and awnings – its good to go for decades more!
Enjoy the summer and bring your friends and family down for some great tastes soon. The menu is large and the staff is ready to create some memories for you to enjoy!
Bridge Drive-In
766 Jubilee Ave.
Winnipeg, MB
Facebook: /BridgeDriveIn
Twitter: @BridgeDriveIn
Instagram: @BridgeDriveIn
Call Electra Sign Ltd. Winnipeg Manitoba today for your custom manufactured LED creation.
VIRTUAL MADNESS: LED Pixel Configurations Explained
June 20, 2017
Via WatchfireSigns.com Pixel pitch is a common way the sign industry describes an LED sign's resolution. A pixel is comprised of a single grouping or cluster of LED diodes – typically one red, one blue and one green. The pixel may share a lens, as in the case of a surface mount diode, or it may be made up of three separate LEDs.
The simple rule of thumb is that a lower pitch measurement, where each cluster is close together, results in a higher quality image. Unfortunately, some manufacturers have introduced alternative pixel distance calculations as a way to reduce costs. These configurations are often marketed as "virtual," "enhanced," or "optimized." Here is a look at a few different pixel options and how they impact image quality.
The Real Deal: True pixel configurations are measured from the center of each pixel and do not rely on sharing LEDs. Watchfire's 10mm uses a surface mount device (SMD) that contains red, green and blue under a single lens. This produces a high-quality display that provides exceptional resolution for crisp, vivid content and wide viewing angles.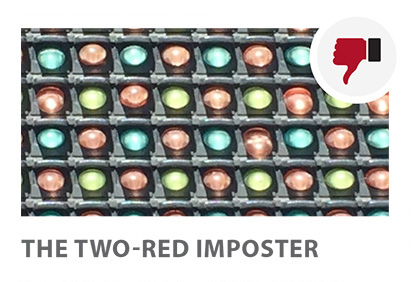 The Two-Red Imposter Module: Virtual pixel configurations are set up completely different. In order to pass off a lower resolution product, some manufacturers will add a second red LED to each cluster. This configuration results in a pixel that has two red, one blue and one green LED. Then to claim the product is high resolution, these deceitful manufacturers will market it based on the measurement between each individual LED. The product will be marketed as an optimized 10mm, but in reality it has a true pixel pitch of 20mm.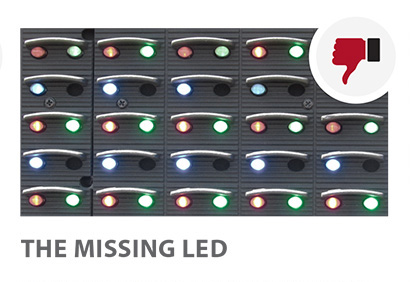 The Missing LED Module: Another way some manufacturers are being deceptive is by using a technique known as LED sharing to claim a higher resolution. LEDs are shared to neighboring pixels to complete a grouping, effectively counting some LEDs up to four times. This layout has visibly larger spaces between LEDs and may even give the appearance that an LED is missing from the board layout. To market this configuration, pitch is measured between overlapping pixels so that the product can be promoted at a much higher resolution than it actually delivers.
The Cold Shoulder Module: Some manufacturers also use through-hole LEDs for higher resolution products like a true 10mm sign. Placing individual red, green and blue LEDs into a circuit board with 10mm spacing creates a product that is not robust enough for long term reliability. This configuration also creates an issue known as shouldering, where the LED lenses block the light of neighboring diodes. Shouldering results in limited viewing angles and can make the display look discolored when it is viewed off-center.
Disadvantages of Virtual Pixel Configurations: LED sharing results in weak color contrast and uneven edges on text as the pixels bleed into one another when they overlap.
Virtual resolutions with two red LEDs cause white graphics and text to look pink because red LEDs dim at a slower rate than blue and green.
Pixel layouts that use 4 LEDs do not allow for consistent black space. This results in fuzzy images that may appear washed out.
Color blending suffers on virtual configurations using the missing LED layout, compromising image quality.
Photos showing the disadvantages of virtual pixel configurations...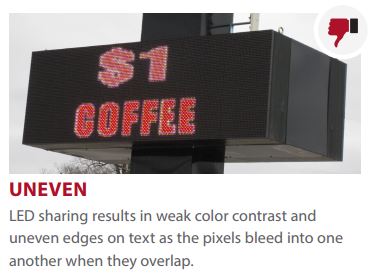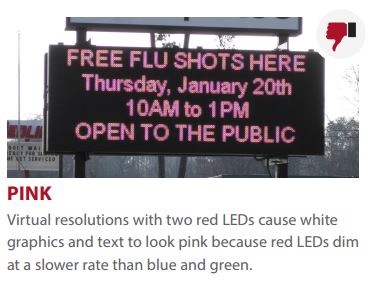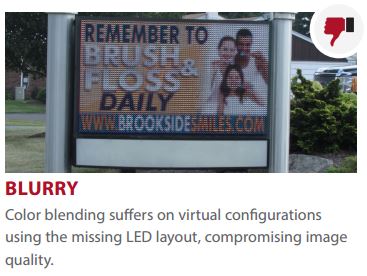 Full article via Watchfire Signs... http://www.watchfiresigns.com/blog/virtual-madness-true-vs-virtual-pixel-configurations
Serving Western Canada with the brightest solutions, call the professionals at Electra Sign Ltd. Winnipeg today.
alpha technologies Expands to New Location
June 8, 2017
While watching the Super Bowl in February 2012, Alan Castell had an idea to make technology work better for people and Bruce Froebe was listening. Together, they formed alpha technologies inc. and turned Alan's garage into a secure hi-tech digital centre, inking their first deal in May of the same year.


This vision has allowed these friends to enter into their 6th successful year, focusing on Full IT management, VoIP, access systems/security and now entering the field of 3D printing technology for businesses of all kinds.


The need arose to move into a new location, one more suitable for their expanding operations. Wanting to draw eyes towards their gorgeous new offices, the call to Electra Sign was made, and our team responded with a unique design that was manufactured and installed May 2017. The crown jewel is the custom spinning LED logo, but our careful craftsmanship and beautiful LED lighting is on display throughout the whole sign. We hope it serves them well as their business continues to flourish.


alpha technologies inc. not only stands behind the products they offer, they pride themselves on creating relationships with direct involvement and true, honest partnerships. If you're unhappy with your company's current IT service, give alpha technologies inc. a call or check out their website and learn more about them today.
alpha technologies inc.
1783 Portage Ave.
Winnipeg, MB
.
← Older Posts
Newer Posts →